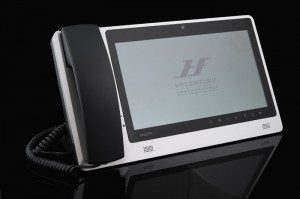 Its creators are looking for funding in the Kickstarter crowd-funding website.
Like a mobile it has a 7 or 10 inch touchscreen, but it can either be a standard PSTN wireline phone or VoIP internet phone.
The Android platform running on a 1.8GHz quad-core CPU brings features such as digital answering machine, a digital photo frame, optional DECT 6.0 handsets, calendar, e-notifications and web browser to the phone.
The phone can be synchronised with your cell phone and Gmail contacts.
The phone can also integrate number of digital cameras to provide video surveillance around your house or around your business.
It provides VoIP capabilities as well. HFC offers its own SIP client with both voice and video functions. It runs a variety of OTT communication clients, such as Skype, Line, QQ, and others.
There are two form-factors with a 7 inch or 10 inch screen. There are three processing options 1.2GHz CPU, quad-core 1.8GHz CPU and quad-core 1.8GHz CPU with DECT 6.0.