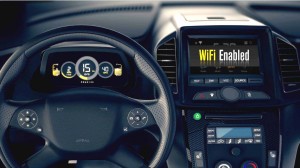 The M2M telematics services company offers vehicle connectivity through an open, cloud-based architecture with standard machine-to-machine interfaces.
"With more than 14 million vehicles sold in the US yearly, auto manufacturers are in a constant race to bring the newest, most versatile and technology-packed products to market," said Ben Vos, vice president and general manager, Sprint Emerging Solutions.
"Automakers can win that race by offering the most advanced connected services… can translate into increased revenues and stronger customer loyalty," said Vos.
Wireless comms firm CalAmp offers a device that plugs directly into the standard vehicle interface to connect to the Sprint Velocity mobile services.
"By having an economical, plug-and-play, full-featured vehicle monitoring and tracking device tap the power of the Sprint Velocity platform, we can extract valuable vehicle data to enable a variety of mobile services," said Greg Gower, senior vice president and general manager of CalAmp's Mobile Resource Management business.
The device provides wireless location and messaging which can be used for insurance, driver behavior management and vehicle maintenance applications that require access to vehicle performance data.
Sprint believes telematics services will be embedded in the vehicle or brought in phone.
Sprint Velocity Connect service allows V2X services to be provided by the manufacturer at any time after the vehicles are purchased. This includes applications that track and monitor vehicle locations, improve dispatch and routing, evaluate driving behaviors, and more efficiently manage vehicle maintenance.
Car makers can also add services for its dealership network, including new ways to differentiate previously owned vehicles with connected services.