CES: Paick shows tiny iPhone power booster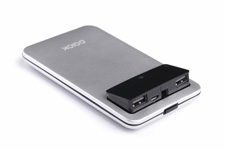 Paick has introduced a very thin half-inch portable 6000mAh power bank for iPhone 5, 5C, 5S, Samsung Galaxy, HTC, Android smartphones.
It is designed to be thinner than other power banks, which are usually over an inch thick, said the China-based supplier.
Paick will introduce the 6000mAh power bank at the Consumer Electronics Show (CES), held Jan. 7-10, 2014 in Las Vegas.
The design has a dust-proof pop-up interface with two USB slots and 1 Micro USB slot that lets you pop-up for access to the USB charging slots or pop-down to keep it extra slim and free of dust.
A Li-polymer battery charger, Noble is more stable and safer than Li-ion batteries. Noble charges iPhone 5, 5C, 5S, Samsung Galaxy, HTC, Android phones, tablets & most USB devices, fully charging an iPhone three times, a Galaxy phone twice, or an iPad once.
Noble also features an Advanced Odin Circuit System with efficient synchronous rectifier output, an intelligent on/off touch sensor with one-touch screen activation, Smart Safety Protection and LEDs that show remaining power: 1 LED indicates less than 25%, 2 LEDs: 25%-50%, 3 LEDs: 50%-75%, 4 LEDs: 75%-100%.

Related posts