The year 2011 marked a major success for the global auto industry. Auto markets around the world began to stabilize in the first half of the year, only to see their sales quickly accelerate in areas like the United States and China during the second half. The final result was that 2011 as a whole ended up being the best year for car sales since 2008.
Perhaps unsurprisingly then, both the 2012 Consumer Electronics Show in Las Vegas and the 2012 North American International Auto Show in Detroit were rife with a dizzying array of new auto technologies, particularly in the realms of infotainment, telematics, driver assistance, and more. Specifically, a major emphasis could be seen from web-giants, such as Microsoft and Google, to accelerate the pace of in-vehicle content development, bringing drivers Web browsing options that were once relegated to the fast moving consumer and smartphone markets.
See also: CES 2012 – Consumer electronics in the spotlight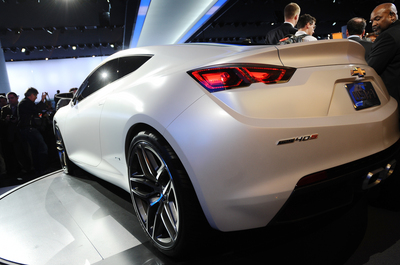 However, a big difference for 2012 than in year's past is that the technology has moved past the novelty point and has become a key product differentiator, especially for a new generation of young car buyers who view networking and connectivity just as, if not more important, than fuel-economy, styling, and price. Chevy, for example, used the show to demonstrate both the Chevrolet Code 130R and Chevrolet Tru 140S (pictured right), two new stylish concept cars that include integrated networking were created using feedback directly from young car buyers.
As a result, 2012 is set to become the year that factory installed in-vehicle technology hits the big time. In fact, according to numbers from the U.S. Consumer Electronics Association, these systems will account for almost $7 billion in sales this year.
Examples include established systems such as the market leading GM's OnStar, Chrysler's Uconnect and Ford's Sync, all of which saw major refreshes at this year's CES. Also, there were several newcomers, including Kia's brand new Uvo eServices infotainment and telematics service and Mercedes-Benz's Mbrace2, the second version of a system that was first launched two years ago. Audi also announced its Connect System, which utilizes the latest Nvidia dual-core "Tegra" chipset. Slated to arrive in the 2013 version of theA3s, Audi Connect includes both A7 / A8 MMI knob integration and a dash-mounted 7-inch LCD screen.
It is not just the auto OEMs that are increasing their interest in the infotainment market; chipmakers are seeing the potential for revenue in this market and are responding in kind. For example, Texas Instruments had a major presence at CES 2012, showing off its latest OMAP mobile processors and C6000 "Jacinto" processor series, both of which are targeted at the infotainment segment with dedicated 3D graphics accelerators and processors for HD video support. In addition to processors, the increased digital content of the new "networked" car means that virtually all semiconductor categories will see major business from the auto market over the next few years. But the greatest growth will be seen in the areas of sensors, LEDs, displays, Flash memory, DRAM, processors, and wireless chips. According to market research firm Databeans, worldwide automotive semiconductor sales will reach a record high of $26.94 billion in 2012.
Although the industry is still probably some ways away from seeing the idea of car as a "smartphone on wheels" become a reality, this January's CES will most likely go down as the moment that those wheels were at least set into motion.
Matthew Scherer, Market Research Analyst with Databeans