The World Cup football tournament starts in Rio de Janeiro in Brazil next month and organisers FIFA will be hoping goal-line technology will not be dominating all the headlines.
Goal-line technology supplied by UK firm Hawk-Eye, which uses high speed cameras to confirm whether a ball has crossed the goal-line or not, has been used without incident in the Premier League since the start of the 2013/14 season.
But FIFA's decision to introduce goal-line technology at the World Cup in Brazil is the most important use of camera and wireless communications technology for guiding referees in their decision-making.
In Brazil, FIFA will use a system designed by German supplier GoalControl, which is installing the technology in 12 stadiums.
Derbyshire-based company Labosport will carry out the final installation testing of goal-line technology systems. It also tested the Hawk-Eye systems for the Premier League.
The GoalControl-4D system which will be used in Brazil incorporates 14 high-speed cameras, seven for each goal, which are mounted around the pitch in the stadium roof.
The cameras run at 500 frames per second and the supplier says this gives accuracy of goal detection down to 5mm.
"The system knows the ball's three dimensional x-, y- and z-position with a precision of a few millimetres in the coordinate system of the pitch," said the supplier GoalControl.
The network of cameras records the position of the ball continuously and a digital signal processing engine renders the image in 3D.
According to FIFA, a goal-line incident will be confirmed "within one second" and the decision relayed to wireless receiver in a watch worn by each of the match officials.
Camera images are stored and can be replayed anytime.
"We believe that this will be an important milestone for the breakthrough of goal line technology in international markets," said Dirk Broichhausen, managing director of GoalControl.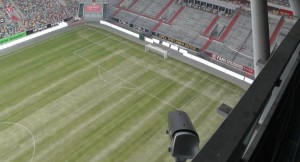 However, the use of goal-line technology is not universally accepted with the leagues in Spain, Germany and Italy still reluctant to introduce it. Indeed, there were many years of debate before FIFA finally decided to implement it.
So next month's World Cup in Brazil, could decide the long term future for the use of imaging technology in football matches.
According to Broichhausen: "The system records the camera images from each goalmouth event for replays and calculates virtual 3D sequences of the ball movement. These images can be viewed from any virtual camera view point in order for spectators to see for themselves if the ball has completely crossed the goal line."
The GoalControl system was first used during the FIFA Confederations Cup in 2013. However, there were no goal-line incidents in which the technology was required to determine whether a goal had been scored.