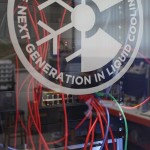 Yorkshire-based Iceotope will also establish close cooperation with investor Aster's strategic sponsors, particularly Schneider Electric.
Aster Capital, an international venture capital firm specialising in clean tech led the transaction alongside Ombu Group, a UK investment company committed to backing the cooling technology technology businesses.
The company said it intends to hire more staff, expand into new geographies and add to its current product offering to address more ambitious supercomputing projects.
"This really is the deal of the century for us" said Iceotope founder and CEO, Peter Hopton. "As a start-up in the north of England, it's fantastic that Iceotope's technology has attracted the investment of an international consortium."
According Hopton, the investment and partnership opportunity with Schneider Electric, will have "a big impact on the development of the company and will allow Iceotope to build a global product ecosystem based on Iceotope liquid cooling platform.
" The global IT ecosystem is said to account for 10% of all electricity consumed on earth and this is largely due to the current energy demand of data centres, HPC and supercomputing facilities.
Iceotope' believes its technology is able to halve the energy requirement of these facilities and significantly reduce their infrastructure costs.