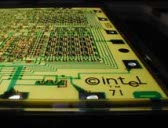 The London-based institute is Intel's first research centre dedicated to technology that can support and sustain the social and economic development of cities.
It will also have collaborative links with social media start-up companies in the Tech City cluster in East London.
The launch of the centre was unveiled at 10 Downing Street, London yesterday.
This research institute for sustainable connected cities will be part of the newly formed Intel Labs Europe UK R&D network. It will consist of nine R&D locations including London, Brighton, Swindon and Aylesbury, with further locations to be added by the end of 2012.
"The R&D network has been established to facilitate further collaboration between Intel and the UK R&D community and will act as a subset of Intel Labs Europe, focusing on research areas such as information security and high performance computing," said Intel.
The institute in London will initially employ about a dozen researchers focused on the application of computing technologies to enhance cities from a social, economic and environmental point of view. 
The work will also explore how fixed and mobile sensors across the city, and intelligent connected vehicles, can be used in the collection of weather, emission and traffic flow data, for use by city planners in the development of more sustainable cities in the future.
The research will use London as a test bed to explore technologies to make cities more aware by harnessing real-time user and city infrastructure data.
For example, a sensor network could be used to monitor traffic flows and predict the effects of extreme weather conditions on water supplies, resulting in the delivery of near real-time information to citizens through citywide displays and mobile applications.
Speaking at the launch event at No 10, the Chancellor George Osborne said: "This new investment from Intel is great news for the UK economy and is recognition of the Government's commitment to ensuring that the UK becomes the technology centre of Europe building on success such as Tech City and the recent investments in supercomputing."
"It is investments like this that will help us put the UK on the path we need to take to create new jobs, new growth and new prosperity in every corner of our country," said Osborne.
"In 2050, most of the nine billion people in the world will live in cities. Therefore the demands of cities will be highly representative of the demands of humanity," said Justin Rattner, Intel chief technology officer and director of Intel Labs.