Japanse firm to launch first "consumer" 3D printer system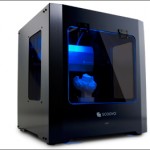 A Japanese company plans to introduce a 3D printer which it describes as "a domestic personal" printing system.
Yokohama-based Opencube said it will launch the SCOOVO C170 personal 3D printer in Japan this month.
It will be able to "produce shaped articles" to a maximum build size of 175 × 150 × 150mm, said the company.
The specification on the company's website said the printer will "realise minimum laminated pitch of 0.1mm.

Tags:
Japan
,
japanese company
,
pitch
Related Tech News
Share your knowledge - Leave a comment