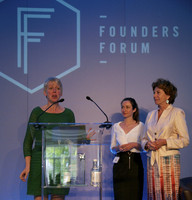 "We don't need a Silicon Valley, we have our own," said Kroes.
"We have a few dozen 'Valleys' spread all over Europe, we have Startup Europe," said Kroes, who was in London to name UK based start-up Clear Returns the best young European startup at the Founders Forum.
"Europe has the talent. It needs founders like you to believe it. It's you who can come up with the good ideas and shake it all up," said Kroes.
"Start forging tomorrow's economy. Create the jobs. Change the world. Because that's what startups and entrepreneurs do." Neelie Kroes stressed
Founded in 2012, Clear Returns offers a cloud-based software for online and multichannel retailers.
Beating hundreds of applicants from around the European Union, CEO Victoria Brock pitched to the Founders Forum audience on her range of smart cloud-based solutions.
"It's a critical time in the growth of our business and the competition has been invaluable in helping us get to the next stage in our startup journey," said Brock.
"We have so many ambitious young men and women who are innovative and creative…the app economy in Europe is booming like hell," said Kroes.
Pitching alongside Victoria was CEO Michael van der Jagt from Parx Plastics and CEO Haje Kamps from Triggertrap, another UK-based startup developing  iOS and Android tools and apps for photographers.  
The three finalists were awarded €20.000 in Google Cloud Platform services, access to Founders Forum, to network with more potential investors and successful entrepreneurs.