Mercedes-Benz S-Class gets MOST connection to the IoT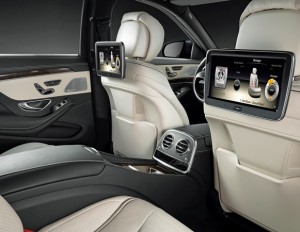 Luxury car maker Daimler expects internet-based applications will become a major element of car design and to support the data communications demands of internet-based devices it has implemented the Ethernet bus technology as defined by the MOST150 standard in its new Mercedes-Benz S-Class vehicles.
"At Daimler, we expect that the prevalence of internet applications in the automotive environment will grow significantly. Consequently, future infotainment platforms have to meet these new requirements," said Peter Haeussermann, head of telematics electrics/electronics at Daimler AG.
MOST150 defines an Ethernet communication channel for implementing IP networks and internet applications. The Ethernet channel can transmit unmodified Ethernet frames (according to IEEE 802.3) with more than 100Mbit/s depending on the network configuration.
Diamler will use this to implement software stacks and applications from the consumer and IT worlds into the car. TCP/IP stacks or protocol entities utilising TCP/IP can communicate via MOST without any modification.
"MOST150 has successfully accomplished series development for the next Mercedes-Benz infotainment generation, with fully-qualified series production parts available for all key components," said Haeussermann.
"MOST150 has recently been first implemented in the brand-new generation of the S-Class. After that, the technology will be rolled out onto all other Mercedes-Benz car lines, step by step."

Tags:
automotive
,
iot
Related Tech News
Share your knowledge - Leave a comment