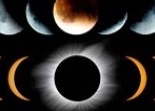 Coverage begins at 2am EDT (6am GMT) and will last about three hours. The eclipse's peak, when the moon will enter the Earth's full shadow or umbra, will occur at 3:45 am (7.46am GMT).
The eclipse is a phenomenon that occurs when the Earth, moon and sun are in perfect alignment, blanketing the moon in the Earth's shadow.
It is expected that the public will be able to see the moon's appearance change from bright orange to blood red to dark brown and perhaps gray.
According to NASA, the US will not be able to witness a full lunar eclipse in its entirety again until 2019.
NASA Twitter, Google+, Facebook, and Instagram followers will be able to join the conversation and ask questions using the hashtag #eclipse.
The public will be able to tag and share their images of the eclipsed moon on Instagram and on the agency's Flickr group.
Lunar eclipse video resources.