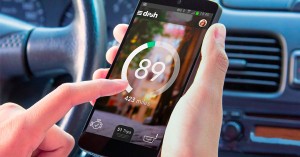 Dubbed OBDLink MX WiFi, it connects in a data port found under the dash of most cars. It transmits data about your car via secure Wi-Fi to your iOS, Android, or Windows device.
OBDLink MX WiFi will work with dozens of existing apps that empower you to do things like save money on gas, troubleshoot your engine, clear your "Check Engine" light, and fun stuff like making your Honda sound like a Ferrari.
Take the Electronics Weekly UK Salary Survey 2014 »
According to the developer, OBD Solution, on certain vehicles, the device will even enable you to control door locks and remotely start your engine.
"The device plugs into the standard onboard diagnostics (OBD) port found in all modern vehicles, and requires no tools to install," said OBD Solutions.
According to the developer, the average installation time is three minutes, including the OBDLink app download.
The OBD port is standard on all 1996 and newer vehicles sold in the US.
MX supports all legislated OBD-II protocols, plus advanced Ford & GM vehicle networks (Ford MSC and GMLAN).
It works with all 1996 & newer cars and light trucks sold in the United States, and also supports EOBD, JOBD, and all other international variants of OBD-II.
Smartphone apps are now appearing for car diagnostics and control, and apps that exist on the market include: fuel consumption control, remote start, create a digital dashboard or a heads-up display as well as clear the 'Check Engine' light, and investigate its cause.
When you're checking out a used car, use OBDLink MX WiFi to see if the Check Engine light has recently been cleared, and see if any new trouble codes are pending.
The MX Wi-Fi is not in production yet, and the company has shipped a dozen of prototypes.