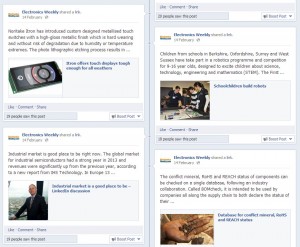 "Facebook's acquisition of WhatsApp should come as no surprise and makes sense for both parties, although there are some key challenges ahead in terms of how Facebook develops and monetises WhatsApp going forward," said Eden Zoller, principal analyst, consumer telecoms, Ovum.
Take the Electronics Weekly UK Salary Survey 2014 »
The social messaging market is growing rapidly, with messaging volumes to reach 69 trillion with subscribers growing to 1.8 billion by the end of 2014 according to Ovum forecasts.
"An immediate benefit to Facebook in the WhatsApp acquisition is that it has enabled two strong social messaging players to be on the same team," said Ovum.
WhatsApp, which will cost Facebook $19bn, also has a presence in emerging markets across Asia and the Middle East, which present a significant growth opportunity for Facebook.
Facebook continues to grow its mobile footprint with close to a billion monthly active mobile users.
"This makes innovation in mobile services and capabilities an imperative, either organically or by acquiring best in class applications like WhatsApp," said Ovum.
WhatsApp has a large repository of phone numbers, which was a missing link for Facebook's user information.
"The access to phone numbers now bridges the offline and online worlds of Facebook users," said Ovum.
According to Ovum's Mobile Messaging Forecast, operator based mobile messaging traffic (including MMS, SMS, A2P SMS) will peak in 2014 with 7.7 trillion messages, declining in 2015 to 7.6 trillion messages.
SMS volumes were higher than social messaging volumes in 2012, but in 2013 messaging apps took a big leap forward and overtook traffic.
Facebook is expected to operate WhatsApp and its own Messenger application as standalone, separate applications.
According to Facebook the application saw a 70 percent increase in usage during the fourth quarter of 2013.