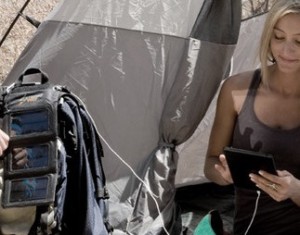 The charger consists of multiple panels which fold up into a "pocket-sized" format.
Dubbed SmartCharger, it uses patent-pending technology developed by the start-up which allows the solar charger to automatically reconnects after passing under clouds or shade and is specifically designed for iDevice compatibility.
These are different power verison of the charger ranging from 3W to 18W. The 18W version (28.5″x12.5″x0.2″) charges an iPhone in one and a half hours and the 5W version (15.4″x7″x0.2″) charges an iPhone in three and a half hours, according to StrongVolt.
"Apple iDevices such as iPods, iPhones and iPads are notorious for not working with existing solar chargers because they require a constant and stable power source," claimed StrongVolt.
"The SunTrack technology was specifically developed to eliminate the "charger not supported" issue plaguing these devices," said the start-up.
It can also be used ith Android and Windows smartphones and Kindle e-readers.
Folded dimensions range from 7″x3.9″x1.1″ to 7.2″x7.5″x2.6″.
According to the company, the breakthrough demonstration of the technology took place on an overcast day in China in November when it tested the latest version of its chip.