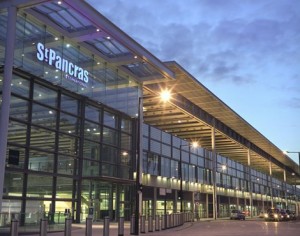 The upgrade, designed and operated by WIFI Metropolis, increases the coverage to St Pancras International station and the three other HS1-owned stations with capacity that is ten times the existing system.
Phase two, planned for the autumn of 2014, will increase capacity a further twenty times, with the ultimate goal to facilitate as many as 7,000 users streaming HD content simultaneously and provide them with the potential ability to download a HD movie in less than two minutes.
The upgrade involved the up-scaling of 24 single radio units to 54 multi-radio Xirrus access points, as well as the upgrade of the internal fibre ring from 200Mbit/s to 1Gbit/s.
The access points support all WiFi protocols and frequencies including the latest 802.11ac which can be configured to provide connection speeds of up to 1Gbit/s.
 "With the latest figures showing that the number of people accessing the internet using a mobile phone has more than doubled between 2010 and 2013 – from 24% to 53% – now feels like the right time to install the service," said Wendy Spinks, Commercial Director of HS1, owner of St Pancras International.
Image: HighSpeed1