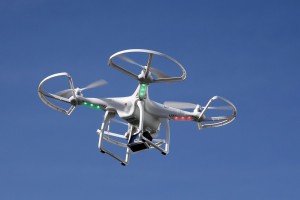 Drones have become a significant potential chip market with their own 25,000 square foot of demo space at CES this week.
Intel says Ascending Technologies has "best-in-class drone auto-pilot software and algorithms."
"We've already partnered to combine Ascending Technologies' sense-and-avoid algorithms with Intel RealSense technology's real-time depth-sensing capability," says Intel's Josh Walden, "together, these technologies can, among other things, improve drone safety – helping them avoid obstacles and collisions. With Ascending Technologies, Intel gains expertise and technology to accelerate the deployment of Intel RealSense technology into the fast growing drone market segment."
Chip companies competing for drone slots include Qualcomm, Ambarella and Nvidia.
To "express its sheer excitement" Ascending Technologies produced a "drone light painting", says the company. See below.
The AscTec Falcon 8 draws "happy to join" and the  "Intel" logo. https://youtu.be/XvGS5fqLHbE The patented V-form drone mounted with a LED was controlled by the flight planning software AscTec Navigator to perform the painting fully automated. The light painting is done by setting a camera to leave its shutter open for a long exposure, while the LED drone is flying its preprogrammed missions. The bright light leaves glowing trails, which form depictions according to the flown drone flight paths.