Jaguar Land Rover aluminium car plan good news for electronics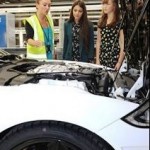 Jaguar Land Rover's plans to invest £1.5bn in the UK to develop an aluminium vehicle architecture is expected to be good news for the local electronics supply chain.
To support this strengthening of the Jaguar product portfolio 1,700 new jobs will be created in the UK at our advanced manufacturing facility in Solihull.
Jaguar Land Rover said it will "significantly increase spend with the supply base". This will include electronics systems and components, which are now fundamental to environmentally friendly car design.
Engine management systems, power controllers, data networks and LED lighting are all product groups which will benefit from the new car design and production.
"Jaguar Land Rover is a business driven by design, technology and innovation and this investment and level of job creation is yet further evidence of our commitment to advancing the capability of the UK automotive sector and its supply chain," said Dr. Ralf Speth, Jaguar Land Rover CEO.
The first new model to use the aluminium architecture will be an all-new mid-sized sports sedan from Jaguar, due to be launched in 2015.
The vehicle's engine will be built at Jaguar Land Rover's new £500m Engine Manufacturing Centre.
The company is a major recruiter of graduates and the current graduate intake is almost 1,000.
Jaguar Land Rover recruits graduates from UK universities and it has close links to a number of academic institutions and is progressing its Warwick Manufacturing Group (WMG) partnership with a £100m investment in an advanced research facility and a £50m investment in a "National Automotive Innovation Campus" (NAIC).
Jaguar Land Rover says "greater collaboration in this way will lead to the development of specialist skills required to support the long term prosperity of the UK automotive sector".