Kemet develops hi-rel electrolytic capacitors in Dorset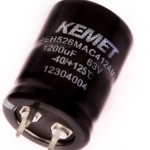 Kemet has opened a development centre for aluminium electrolytic capacitors at Weymouth in the UK.
The facility will carry out research and development, quality and product management support for the Kemet customerbase and manufacturing facilities.
The centre's first products will be high vibration screw terminal capacitors. These capacitors are capable of withstanding vibration of up to 20g and have been developed for inverters in the automotive, aerospace and alternative energy applications.
The team in Weymouth have also developed a low inductance screw terminal capacitor that addresses internal voltage peaks in frequency converters used in inverter and motor drive applications.
As an extension of the ALS 30/31 series, these capacitors reduce the inherent inductance in electrolytic capacitors by as much as 40% which lowers voltage and allows the use of lower-rated, lower-cost associated circuitry.