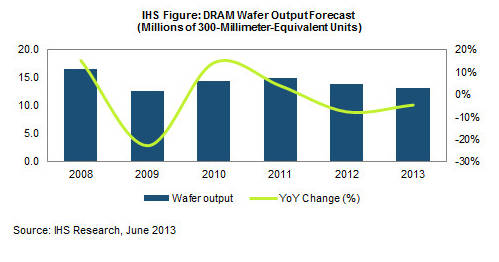 The projected cut will be the second straight year of deliberate downsizing following an 8% drop-off last year. This year's output is expected to be slashed by 5% compared to 2012.
Curtailing DRAM capacity is a positive move for the industry, resulting in a gradual normalization between supply and demand for DRAM. The industry is now believed to be perhaps slightly undersized relative to demand because of the intentional slash in output, and DRAM pricing can continue to remain firm if production remains slightly behind demand.
DRAM revenue in the first quarter rose to its highest level in nearly two years, thanks to a jump in commodity prices spurred by demand from the server PC and mobile PC segments. Pricing for the 4GB DDR3 module rose to $23 in March, up from $16 in December, an unusually large increase.
Nearly 65% of all DRAM bit shipments went to a desktop or laptop 10 years ago, but that figure is less than 50% today and will fall further to south of 40% by the end of next year.
Meanwhile, servers and mobile gadgets like smartphones and tablets command an increasing share of DRAM bit shipments.
The overall result is that the travails of one segment—like the embattled PC space—won't be able to disrupt the entire market, lacking the size and critical mass to do so. The server and mobile segments also help by using more specialized products that require a more involved design-in process, thereby reducing the commodity nature of the DRAM that the segments consume.
The Taiwanese are no longer the powerhouse suppliers they used to be, while Qimonda of Germany and Elpida have gone bankrupt.
By the end of this year, only three DRAM manufacturers will remain—Samsung and SK Hynix of South Korea, and US-based Micron Technology. With fewer entities to influence the market, a more conservative approach to capacity expansion is expected, and more stable growth can follow.
A final factor helping the global DRAM business is the slower pace of advancement in DRAM manufacturing processes. Each new generation of DRAM manufacturing technology is now taking longer to arrive resulting in slower bit growth, which is keeping supply in better balance with demand.