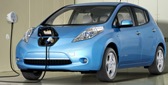 The move will help to support more than 2,000 jobs in the UK automotive supply chain.
"The start of UK production of the first mass-market, pure-electric vehicle is a landmark day for the UK automotive industry, and represents a bold new step towards zero-emissions motoring," said Rhian Kelly, CBI director for business environment.
"The UK has one of the most diverse and productive automotive industries in the world, attracting more than £6bn inward investment in the last two years and generating around £30bn of annual export revenue for the UK economy," said Kelly.
Automotive industry strategy
Nissan's announcement comes on the same day that the CBI is highlighting the long-term growth potential of the UK automotive industry.
"The much-anticipated automotive industrial strategy must build on this momentum by setting out an ambitious plan to ensure the long-term competitiveness of the UK's car industry, building the strongest possible supply chain and supporting export growth in global markets," said Kelly.
According to the CBI, the priorities for the Government and businesses are building the UK's capabilities in automotive R&D, strengthening the supply chain and improving the skills base.
See also: Active cell balancing for electric cars is 92% efficient, and compact