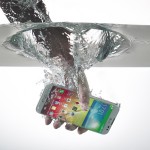 The Abingdon-based company said it is seeing increased demand for its protective coatings on consumer electronics such as smartphones, tablets and wearable devices.
"P2i is already experiencing commercial success with the Splash-proof nano-coating," said Carl Francis, chief executive officer, P2i.
According to Francis, the electronics coating is used in 50 million devices from Motorola, Plantronics and GN ReSound.
"The new Shenzhen facility will allow us to hold strategic meetings with brands and OEMs close to their own manufacturing sites in China," said Francis.
It is envisaged that the Shenzhen office will start with 17 staff in roles including administration and finance through to implementation technicians and process engineers.
Donald Zhang, general manager China, P2i believes the location of the new P2i office in Shenzhen is "close to P2i's customers, allowing us to deliver application development and technical capability at their greatest convenience. It also
P2i's  nano-coating systems are already in operation in customer facilities in China.
According to Peter Rankin, chief operations officer: "In January alone, P2i had over a million smartphones going through our nano-coating systems in China."
"Having local support services means we can respond to any production stresses in a timely manner, while remote monitoring allows us to spot potential issues before they arise," said Rankin.