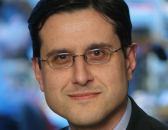 1. As head of a UK-based electronics design and manufacturing company what do you think will be the main challenges in 2009?
In 2009 companies must focus, focus, focus! This will be the year that tests companies to the core – proving whether they have previously focused on the right areas and developed the right skills to deliver on their goals.
It'll be vital for businesses to maintain momentum as there's so much uncertainty ahead. However, the broader challenges of our industry haven't changed and three fundamentals will always stand true – the strong survive, the long term demand for electronics will increase and the price of electronics will continue to be driven down.
For specialist manufacturers that offer high mix/low volume products and manufacturing services, the key challenge will be ensuring customer intimacy is kept at the heart of the operation, so that they become indispensable to their clients. It's all about having and identifying unique expertise and being proactive in delivering that expertise to customers.
2. Is the UK electronics industry well-equipped to deal with a downturn in 2009?
A couple of years ago we took steps to bring laser-like focus to our business and concentrate our activities only on applications and market sectors where we could truly differentiate ourselves. Of course, we had no way of predicting the downturn – so you can either call it good management or good fortune – but because of the decisions we took then we are now in a robust position given the current climate.
For the UK electronics industry as a whole, I believe that manufacturers will be able to ride out these tough times as long as they remain focused on their core capabilities and being excellent at what they do best. Good luck helps – no business can be completely recession-proof, or, to use a football expression, "too good to go down a division".
3. Does the government have a role in supporting the industry? 
Absolutely, but too often I hear businesses blaming the Government for their own failings when they should take responsibility. The Government is rightly involved in promoting, supporting and funding UK manufacturing, but it's up to us to look after ourselves. We should take responsibility for maintaining our competitiveness and start shouting about what we're doing, not relying on the Government to do this.
I believe passionately enough in the future of UK electronics that I took a leadership role as a member of the Electronics Leadership Council. The Council can provide focused and high-profile leadership to the industry and help to identify areas where Government help is appropriate, for example in skills and education. 
4. Does the industry have the right skills base to succeed in 2009?
One thing that we can all be certain of is that we are a day older today than we were yesterday. So, we must ensure that the next generation of engineers are attracted, nurtured, inspired, trained and retained to take our place in the future.
One of the issues we face is that we no longer have the big electronics brand names in the UK, meaning school leavers aren't drawn to the industry. However, UK electronics innovation is behind many of the big brand names, stemming from a long tradition of UK entrepreneurs. This is something we should be proud of and we need to fight hard for added value manufacturing and products that are "made and brained in the UK".
A skills gap exists and we've had to go right back to defining overall focus, setting targets, understanding the skills that we need to meet them. We've actively engaged with local schools and colleges to promote electronics engineering as a valued and worthwhile career. We need to help ensure that the skills we need will be there in the future.
5. Which areas of the market will offer the best opportunities in 2009?
The greatest opportunities will be for industries that manufacture highly specialised/low volume electronics – something I refer to as 'design and electronics craftsmanship'. Manufacturers that supply into specialised verticals that have a high barrier to entry, such as the aerospace and defence electronics market, will be key areas of stability in these tough times. We've invested heavily in appropriate manufacturing accreditations such as Mil-PRF 38534 Class K for the space industry and AS9100 for aerospace industry. These provide protection from potential competitors and are proving to be invaluable.
Meanwhile, it is also imperative to identify areas for growth. I see considerable potential in parts of the energy sector, such as wind turbine development and deep-hole mining, where there are growing requirements for electronic sensors which are subject to extreme environments, such as high temperature. C-MAC has invested in this area and has high hopes for the future.
See also: Q5 – Interviews with electronics industry leaders
Read all the Electronics Weekly Q5 interviews. From ARM's chairman, Sir Robin Saxby, to touchscreen technology firm Zytronic's MD, Mark Cambridge, the business leaders share their particular insights on the UK electronics industry.