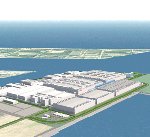 Dubbed a "Manufacturing Complex for the 21st Century", the Japanese electronics giant has given details for the future manufacturing of both energy-saving LCDs and energy-creating solar cells, aiming to boost its credentials as an "environmentally advanced company".
The massive new plants – sited in an area measuring 1.27 million m2 – will be located in the Sakaihama District of Sakai City, in the Osaka Prefecture.
The LCD panel plant will be the first in the world, claims Sharp, to use 10th-generation glass substrates. These measure 2,850 mm x 3,050 mm, and are 60% larger than the 8th-generation substrates used at the company's Kameyama Plant No. 2.
It will mainly be producing LCD panels for large-screen LCD TVs – in the 40-, 50- and 60-inch class. According to Sharp, each substrate can yield 6 panels in the 60-inch class, 8 panels in the 50-inch class, or 15 panels in the 40-inch class.
For its part, the solar cell plant will focus on mass production of thin-film solar cells, in which Sharp is already specialising, and be the largest of its kind in the world. According to Sharp, there are plans for a "production volume of around 1,000 MW (1 million kW) per year for the thin-film solar cells to be manufactured at the facility".
Construction of the LCD panel plant, which is costing Sharp an investment of around 380 billion yen, is scheduled to begin November 2007, with operations commencing March 2010. The company eventually expects the facility to be taking in 72,000 substrates per month.
While investment details surrounding the solar cell plant are still under review, Sharp expects the plant to be producing thin-film solar cells by March 2010.