"The LED Traffic Signal Detector system is designed to monitor the red and amber aspects of LED traffic lights and, when the correct conditions are met, notify the enforcement camera," said Downton technical director Natasha Downton.
As well as signalling the camera, it automatically compares traffic light timing against legal requirements.
The detector has been tested and approved for use with a range of traffic light heads for compliance with Home Office requirements.
"It has been an immense amount of work for Downton, it has taken years," Newbury MD Philip King told Electronics Weekly.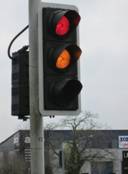 Prototypes were made by Downton, and Newbury designed production PCBs from the final circuits as well as engineering the product for manufacture.
Newbury is building the first five road safety systems for Downton customers, and is ready for mass production.
Newbury Electronics has been trading for nearly 60 years. King took over as MD in 2011 and has overseen £2m of capital investment. With 73 staff, it offers electronic design, PCB layout, PCB manufacture, and assembly services. in Newbury. Lots of up to 10,000 can be processed on nine automated SMD assembly lines.