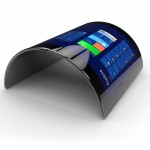 Independent validation of the company's materials capability allowed SmartKem to form commercial partnerships with global manufacturers. This included a joint development agreement with a major Asian display manufacturer for the future commercialisation of advanced flexible displays.
The collaboration allowed SmartKem to benefit from Bangor University's expertise in the field of transistors physics which provided a better understanding of the electronic performance of its organic semiconductors during the development cycle.
"Few places in the UK could have provided the level of expert technical support and high calibre equipment that we have had access to at Bangor University," said Steve Kelly, CEO of SmartKem.
Dr Colin Watson of the university's school of electronic engineering worked with the company to process, test and validate its products in TFT form and to define protocols for incorporating their materials into transistor arrays, which is an important part in the technology transfer process.
"This has been of immense value to the company in understanding the performance of our materials," said Kelly.
Kelly told Electronics Weekly, that after many years of being 'the next big thing' printed electronics has turned a corner on the path to full scale commercialisation.
"We have been focused on market- driven applications where serious market traction existed, the most significant of which is printed, flexible drive electronics for flexible display manufacture," said Kelly.
Curved mobile phones are expected is expected to be a significant growth opportunity for printed electronics in 2014.
"This not only applies to material suppliers, such as SmartKem, but also to production and test equipment manufacturers as well as a range of IP license opportunities as the UK's academic and research institutes are widely recognised in Asia as world beaters in scientific and technical creativity," said Kelly.
The work with Bangor University was part of the government backed Knowledge Transfer Partnership (KTP) programme and has been recognised by the Technology Strategy Board.
Interview
Steve Kelly, CEO of SmartKem, the North Wales-based supplier of organic semiconductor materials, talks to Electronics Weekly