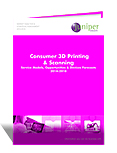 In the short term the market looks less interesting, but longer term growth could be strong.
Today, 3D printer shipments are at relatively low levels for mainly industrial and professional use, representing a limited opportunity in the medium term. This year the market worth only $75m.
According to Juniper, suppliers such as 3D Systems and Stratasys have confirmed a stronger demand for professional 3D printers and materials compared to a softer consumer demand.
It is hoped that the entry of consumer brands such as HP and Epson into the professional market, will help create a volume market in 3D printers.
"While there has been an increase in awareness of 3D printing it is still, and will continue to be, a niche consumer technology,"  said Nitin Bhas, author of the report titled Consumer 3D Printing & Scanning: Service Models, Devices & Opportunities 2014-2018.
"In order for 3D printing to successfully find a mainstream market amongst consumers, it needs to widen the applications available that integrate consumer lifestyle and drive a number of applications beyond professional printing."
Markets in the US and Europe are ahead in terms of consumer 3D printer adoption, driven by hobbyists and early tech-adopters.
Retailers such as Staples are even testing in-store 3D printing services.
The whitepaper, '3D Printing ~ Cutting through the Hype' is available to download from the Juniper website together with further details of the full report and Interactive Forecast Excel (IFxl).