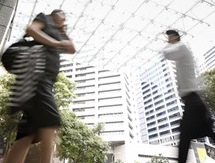 This is the conclusion from new market analysis of the wireless industry in 2014 and beyond, from 5G to small cells, spectrum, backhaul and the internet-of-things (IoT).
"We've found that mobile operators are facing a perfect storm of challenges starting from this year. The next few years pose an unprecedented challenge, and few operators are preparing for it," said Professor Simon Saunders, Director of Technology and co-founder of Real Wireless.
"While there's never an easy time to be an operator, technology challenges are increasing in complexity at the same time as financial pressures bite. More CapEx is needed to support data traffic growth, improve coverage and build out 4G, but revenue & ARPU are under strain – indeed, in Europe the industry has moved ex-growth."
Some of the challenges include the use of small cells to allow operators to meet the growing data demand of IoT, and the planning for next generation 5G network investment.
"5G is coming faster than many appreciate, with vendors demonstrating technology and standards activity progressing. However, as complex as spectrum has been for LTE, with UEs having multiple product SCUs to complicate roaming, it will be even harder for 5G," concluded the report.
Also in a world where operators have 2G, 3G, 4G and 5G all running at the same time, interacting and needing spectrum could turn into a "technical nightmare and financially insupportable".
"What will make 2014 different from any other year is that there are so many big challenges across such a wide range of areas all at the same time," added Saunders. "We're anticipating further consolidation of both networks and operators as demanding consumers and new market entrants put pressure on an industry that is already seeing its growth slow."