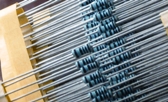 According to official figures from the National Office of Statistics, the seasonally adjusted manufacturing output rose by 0.9% in March compared with
February.
The strength of electrical equipment manufacturing, which rose by 12.1% in the first quarter of the year, helped manufacturing output to end two previous quarterly falls.
"Today's figures paint a slightly improved picture for manufacturing," said Andrew Johnson, senior economist at EEF, the manufacturers' organisation.
"This suggests manufacturing is in a better position at the start of this year than it was at the end of 2011," said Johnson.
But the rise was only marginal and other statistics were all negative.
The seasonally adjusted index of production fell by 0.3% between February and March, and the index for March was 2.6%  down on the same month a year ago.
"The challenges clearly remain formidable, especially with regard to major European markets," said Johnson.
Eight manufacturing sub-sectors rose with four falling and one flat.
The largest contributions to the month-on-month rise in manufacturing output was the chemicals sector, which rose by 5.6%, followed by the manufacture of transport equipment industries, which rose by 3.4%.
The manufacture of wood and paper products industries fell by 2.3%.
"Whilst the mixed picture across individual sectors suggests we are some way yet from establishing a strong and consistent growth path," said Johnson.