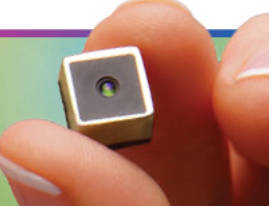 Examples will be microphones, accelerometers, gyroscopes, magnetometers and sophisticated camera modules; embedded in smartphones, tablets, eReaders and wearable devices.
"With Apple and Samsung paving the way, device manufacturers are integrating multiple sensors, and combining these to enable future services. The need for better performance and stronger device specifications, in order to provide service differentiation, are driving the demand for sensor integration. This means the industry will witness greater levels of innovation in terms of MEMS based components and sensors in the mobile device area", said report author Nitin Bhas.
MEMS sensors are linked to enabling services such as augmented reality, context awareness and navigation; driving gaming, imaging and videography.
MEMS cameras are identified as "the next big thing", buy Juniper: "MEMS cameras will offer new levels of functionality such as multiple points of focus that will allow viewers to choose which points within the image have the main focus. MEMS cameras will begin to hit the market in the next 12-24 months."
Detailed findings are available in the report Mobile Sensors & MEMS: Market Prospects 2013-2018, which also examines the emergence of wearable technology, where health and fitness will rely heavily on MEMS to measure temperature, pressure, physical activity and other aspects of the body.
Recently, DigitalOptics demonstrated a camera module (pictured) based on MEMS actuator capable of multiple points of focus at the Mobile World Congress 2013 in Barcelona.
Other findings include:
Global MEMS Audio device shipments including microphone and speakers are forecast to exceed 3 billion in 2018.
Far East and China will be the largest region in terms of sales revenues in 2018, followed by North America and Western Europe.
A white paper: MEMS ~ Sensing the mobile future is also available.