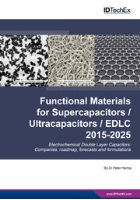 The most critical and costly components of a supercapacitor are the active electrodes, electrolyte and then separator.
As solid state supercapacitors in the laboratory have no separator, then the structure and chemistry of electrodes/electrolytes are critical.
"Opportunities for developers of the necessary fine chemicals and new fabrication technologies are considerable. Most commercial electrodes are bulk carbon with macropores leading to micropores ie "hierarchical". Best laboratory results for improved energy density for battery replacement and time constant for electrolytic capacitor replacement are "exohedral". This means nano structures – carbon allotropes such as graphene, carbon nanotubes and nano-onions (spheres within spheres)," according to the report.
Graphene has be shown to have benefits but it is uncertain when or even whether it will win commercially.
The key elements are electrode and then electrolyte materials, with separators third in importance.
"For electrodes, that includes many types of graphene, carbon nanotubes, nano-onions, aerogels and chemically-derived carbons. Important for future electrolyte needs are new neutral aqueous electrolytes permitting low cost current collectors now with higher voltage, new ionic liquids that work at low temperatures and new organic solvents – less toxic and non-flammable."
For electrodes, the report compares the various hierarchical (wide to narrow pores in bulk), exohedral (large area allotropes) and thin film options. They are related to various end points from micro-supercapacitors to structural ones forming part of a building, smart skin on ships or e-fibers in textiles. Emerging, there is a wealth of different needs for high added value functional materials.
Large super capacitors are likely to be used in electric vehicles, grid, railway and other electrical engineering applications. In electric vehicles, for example, they will partly or wholly replace traction batteries.
It is expected they will replace inverter capacitors and be even more useful in many other EV locations including regenerative braking backup and bus door opening.