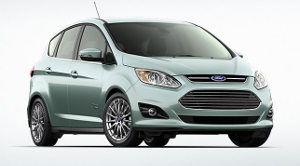 Ford wants to find out if it will be a feasible product for production. The car is said to have a range of 620 miles including up to 21 electric-only miles. The car can also be charged via a cord in the conventional way.
SunPower provides the solar cells and Georgia Tech found a way to amplify the sunlight to make it practicable by developing an off-vehicle solar concentrator that uses a special Fresnel lens to direct sunlight to the solar cells while boosting the impact of the sunlight by a factor of eight. Fresnel is a compact lens originally developed for use in lighthouses. Similar in concept to a magnifying glass, the patent-pending system tracks the sun as it moves from east to west, drawing enough power from the sun through the concentrator each day to equal a four-hour battery charge (8 kilowatts).
Blu Wireless Technology, the "Gigabit Wi-Fi" company, is poised to make a breakthrough on the 4G wireless infrastructure system market. The Bristol-based company announcement before Christmas the first phase of collaborative development with US firm InterDigital to explore millimeter wave devices for small cell basestations and access points.
The plan is to create a demonstration platform to allow operators to evaluate the technology for boosting 4G and 5G network capacity to meet the growing demand for data.
"We're all about Gigabit Wi-Fi," says Henry Nurser, CEO of Blu Wireless, "we're selling soft macros which can be easily absorbed into customers' design flows."
"The problem was how to efficiently address multi-gigabit baseband processing," says Nurser, "a lot of people are doing hard-wired implementations but these are totally inflexible, so we set out to do something with the same power as hard-wired but significantly more flexible."
The application is backhaul for LTE small cells using the unlicensed 60GHz band to ensure low-cost for the carriers.
The UK has a semiconductor process technology company worth keeping an eye on 2014. SureCore, the UK-based embedded memory process developer, has already taped out its low power SRAM IP demonstrator chip in STMicroelectronics' 28nm fully depleted silicon-on-insulator (FD-SOI) process.
The device will be used to validate the benefits of the start-up's patented array control and sensing scheme, which is claimed to lowers active power consumption to deliver greater than 50% power savings compared to current offerings in the same process.
"This is a major milestone for the company – the demonstrator device will allow us to take the next steps commercially," said Paul Wells, CEO of sureCore, which was named Company of the Year in the Elektra Awards 2013.
Although it is implemented in an FD-SOI process, Wells says the technology is not process specific and will map to both bulk CMOS and finfet technologies.
According to Horacio Mendez, executive director of the SOI Industry Consortium: "sureCore is solving a critical problem for SoCs: power reduction for the memory components."
In the mobile market more operators will deploy LTE-A carrier aggregation (CA), including operators doing initial LTE deployments, according to market watcher AnalysisMason.
Operators that are combining acquired networks are likely to be big adopters.
The initial focus is on higher-speed services, but the analyst expects deployments of 5+5MHz carrier aggregation as emerging markets deploy LTE in 2014.
It is worth keeping an eye on the UK's car industry, if you are selling components. The adoption of intelligent systems within the vehicle along with changes in legislation on emissions is expected to drive investment and design activity in the automotive industry.
The UK's automotive industry is in a growth phase again, and automotive production set to grow at 9% per year.
Jaguar Land Rover's purchasing risk manager, Michael Mychajluk believes the industry has "a once in a generation opportunity" to move R&D in to on-the-road production vehicles.
The challenges seem to be adapting consumer technology to automotive quality, security and functional safety.
And finally…. 2014 could be the year when wearable electronics starts to make an impact on our day-to-day lives.
Talked of for many years embedding electronic devices such as sensors and wireless transceivers into clothing has been a tough nut to crack. But companies have now identified practical as well as imaginative wearable applications.
One interesting example is a company called Blue Infusion Technologies has combined gloves with an RF remote control for those situations where you can't afford to remove hand protection.
There are contacts on the sides of some of the fingers, and one on the thumb. Touching the thumb to finger sends a command to a Bluetooth receiver in your smartphone or via Wi-Fi using a module at the back of the glove. Branded BearTek, there are also specific gloves for motorcycling and snow mobiles. I have no idea how well they work, or how robust they are in use, but it is a nice idea.