Wireless infrastructure $50bn next year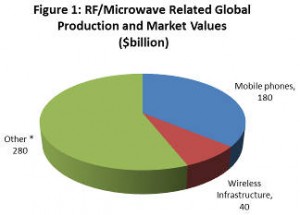 The wireless infrastructure market will hit $50bn in 2014, said analyst Engalco-Research in a report which puts the global market for end-user equipment using RF and microwave devices at $500bn last year, of which $40bn was infrastructure.
"The value of global production for all electronic equipment in 2012 was valued at $2.3 trillion, of which around 50% was manufactured in China," said Engalco director Terry Edwards. "Around 28% of this production was attributed to communications and radars, of which 80% corresponds to systems implementing RF/microwave technology. This yields a figure of approximately $500 billion for this segment, with most of the remainder being accounted for by fibre optic systems."
Because of the relatively high cost of professional and military equipment, according to Engalco, the proportions of the sector accounted for by wireless infrastructure (8%) and by mobile phones (36%) are lower than that for 'other equipment', which includes radar, satellite communications and short-range Gbit/s links (see diagram). Both the production and market value for wireless infrastructure are forecast to reach $50 billion by 2018.
Major systems OEMs identified include: Apple, BridgeWave, Ericsson, Harris, Raytheon, Samsung, Selex ES and Siklu.