Maxim buys power chip firm Volterra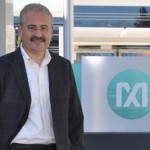 Fabless Californian power chip maker Volterra is to be acquired by Maxim.
"Volterra is an industry leader in high-current, high-performance, and high-density power management solutions," said Maxim. "The company develops highly integrated solutions primarily for the enterprise, cloud computing, communications, and networking markets."
"With Volterra, we will strengthen our position in the enterprise and communications markets," said Maxim CEO Tunç Doluca. "We add a talented team and leading-edge proprietary technology in high-current power management solutions, which further diversifies our business model."
The firm will be acquired for $23 per share in a transaction valued at $605m equity value; $450m enterprise value, said Maxim.
Pending regulatory approvals, Maxim's acquisition of Volterra is expected to close "early in the December quarter", said Maxim.
Related news
Altium ups Maxim part count on Designer
Maxim at 30: CEO interview