Memory companies clean up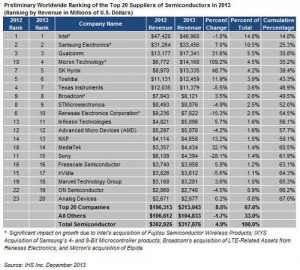 A dramatic year for the semiconductor industry sees Micron growing over 100%, Hynix growing nearly 50%, Qualcomm growing over 30%, Sony falling nearly 30% and Renesas falling 15%.
The two memory companies are, of course, benefiting from the consolidation in the DRAM industry following Micron's takeover of Elpida which has resulted in a reduction to three major DRAM players, tighter supply and soaring ASPs.
Overall the industry will grow 5% this year, says IHS.
Semiconductor sales in 2013 will amount to $317.9 billion, up 4.9 % from $302.9 billion in 2012, says IHS.
Main drivers are the DRAM and NAND markets which are expected to rise by 35.0 % and 27.7 %, respectively, in 2013.
Partly because of its success in the booming DRAM and NAND markets, Micron will grow by 109.2 % in 2013, catapulting the company up the semiconductor market's ranks to No. 4 in 2013, rising from No. 10 in 2012.
"Memory chips are coming to the rescue of the semiconductor business in 2013," says IHS' Dale Ford, "solid pricing and expanding demand for DRAM and NAND in smartphones and tablets have caused revenue for these memory devices to surge. Without these two high-performing product segments, the semiconductor industry would attain zero growth this year."
Micron is expected to end the year with $14.2 billion in semiconductor revenue, more than doubling its $6.8 billion total in 2012. In addition to its success in DRAM and NAND, Micron's growth in 2013 is being propelled by its acquisition of Elpida Memory.
ST saw revenues fall by over $400 million – or 4.9% – to $8.076 billion – considerably below the $8.9 billion of 2005 when the current CEO took over.
Top 10 IC Vendors 2013
$bn
Intel          47
Samsung  33.5
Qualcomm  17
Micron         14
Hynix           13
Toshiba       12.5
TI                  11.4
Broadcom       8.1
ST                   8.0
Renesas          7.8
Out of the more than 150 semiconductor suppliers tracked by IHS, no other company will grow more than Micron in 2013. Micron's share of the total semiconductor market will more than double to 4.5 % in 2013, up from 2.2 % in 2012.
Also benefiting from the memory boom is SK Hynix of South Korea, whose chip revenue is on track to expand by 48.7 % in 2013. The company will jump to No. 5 in the semiconductor market rankings in 2013, up from No. 7 in 2012. SK Hynix's performance is all the more outstanding since it was entirely driven by organic sales growth—and not by any acquisitions.
Qualcomm Inc.'s incredible success in the wireless world continues to drive it to the top of the semiconductor industry. The U.S. company is set to attain 31.6 % semiconductor growth in 2013, causing it to gain 1.2% points of share and take 5.5 % of total semiconductor market revenue. No. 3-ranked Qualcomm's strong growth in 2013 will allow it to narrow its market share gap with industry leaders Intel Corp. and Samsung.
Sony, Renesas Electronics, and Rohm Semiconductor are set to deliver disappointing results with expected declines of 28.1%, 15.3% and 14.3%, respectively. As a result, Renesas will drop all the way to No. 10, down from No. 6 in 2012, and Sony will fall to No. 15, declining from No. 11. Rohm Semiconductor will completely fall out of the ranks of the Top 20.
Texas Instruments and nVidia also are struggling in 2013 with the companies suffering declines of 5.5% and 5.6%, respectively.
Intel will maintain its status as the No. 1 semiconductor supplier, but its projected semiconductor revenue decline of 1.0% means it will drop from its historically high 15.7% share of the market in 2012 to 14.8% in 2013.
Of the major application markets for semiconductors, the hot wireless segment will drive the largest increase in semiconductor consumption of chips in 2013. Semiconductor revenue from wireless communications products are projected to grow by 11.7% in 2013.
The next fastest-expanding application will be industrial electronics, with double-digit semiconductor sales growth of 10.7%.
Asia-Pacific will lead all regions in terms of consumption of semiconductors with growth of 8.9% in 2013.  The Americas will not be far behind with a 5.0% increase. Japan will experience a decline of 7. %.
Overall, 53% of the more than150 companies tracked by IHS are expected to expand their semiconductor revenue in 2013, while 47 % will decline.
Beyond the DRAM and NAND segments, other products that will yield healthy growth in 2013 are expected to be light-emitting diodes (LEDs) with 9.5%, complementary metal-oxide semiconductor (CMOS) image sensors at 5.7%, standard logic up by 4.2%, sensors and actuators by 3.6 % and analog application-specific integrated circuits with 3.5%.
Markets experiencing significant declines will be charge-coupled device (CCD) image sensors, which are expected to plunge by 40.6%; specialty memory, with a 19.6% drop; digital signal processors, down by 16.5%; SRAM declining by 15.9%; NOR flash memory falling by 14.8% and logic ASICs, with an 11.6% decrease.

Related posts