Is this true?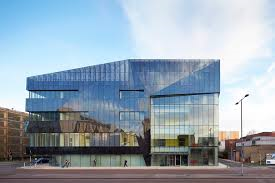 "No", replied the NGI.
"How many people are working at the NGI?" asked Electronics Weekly.
"That is not information we would release at the moment," replied the NGI.
The ST reports an academic saying: "Academics don't want to move into the NGI, As a result the NGI is almost empty."
The NGI was built to accommodate 120 staff. A visitor confirmed to Electronics Weekly that: "The building is mostly empty."
The NGI was opened in March 2015 by George Osborne. The UK government gave it £38 million and it also got £23 million from the European Regional Development Fund.
In 2013 Manchester University signed a deal with BGT of Taiwan to co-operate on three specific graphene-related products. In 2014 BGT signed deals with China's Xiamen University and Power Booster, a Chinese company, to work on graphene technology.
The Manchester researchers are said to be concerned that, if they move into the NGI, then BGT will gain access to IP beyond that contracted for under the three research projects.
Although NGI has other research contracts, e.g. with Huawei, researchers say they are not concerned with IP transfers to them – only to BGT.
The NGI has put out the following statement:
"The University of Manchester has thoroughly investigated all of the claims and allegations put to it by the Sunday Times and has found no evidence whatsoever that BGT Materials (Bluestone Global Tech Materials) or Bluestone (Bluestone Global Tech) has had access, outside of any confidentiality undertaking, to confidential research programmes or that there were insufficient safeguards to protect the University's Intellectual Property. The University also completely refutes the anonymous, unsubstantiated claim that academics are "boycotting" The National Graphene Institute (NGI). "
"The NGI has around 40 industrial partners, of which BGT Materials (a company registered in England and Wales) is one. The University is committed to leading the way in the UK and internationally to commercialise graphene and two-dimensional material applications. "
"Our handling of Intellectual Property (IP) with research collaborators and our own independent patenting strategies are robust and comprehensive and specifically designed to optimise the commercial opportunities of our world-leading graphene research to the national benefit by being international in approach. We have expert external input to our IP strategy and approach. Patenting is a statement of commercial intent. According to independent 2015 figures, the University was the most active UK graphene patenting organisation. When filing we have in mind the right timing, quality and potential real world value of these and the platform they offer to create jobs, reputation and wealth for the UK. We would welcome an external enquiry on this issue. "
"Graphene is a revolutionary but relatively new material with limitless applications. Previous examples of new technologies, such as carbon nanotubes, silicon and carbon fibre, have shown that it usually takes decades for products and applications to become commercially viable. The NGI has been open for less than one year and we are already witnessing some promising projects coming to fruition."