Notebook shipments fall 17%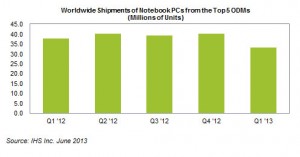 PC blues gather pace with ODMs' notebook shipments falling 17% in Q1, reports IHS.
The No.1 notebook ODM, Compal, saw notebook shipments fall 7%; No.2, Quanta fell 27%, No.3, Wistron, fell 16%; No.4, Inventec, fell 9%, and No.5, Pegatron, fell 21%.
These companies make notebooks for HP, Acer, Dell, Asus, Lenovo, Samsung, Toshiba, Sony, Apple and Fujitsu.
Collectively, the top five ODMs shipped 33.2 million notebooks in Q1 down 17% from 40.1 million in Q4.
The slump is not just due to the rise of tablets, reckons IHS, but to the fact that Intel and Microsoft no longer co-ordinate the launch of the latest PC processor with the launch of the latest PC OS.

Tags:
Lenovo
Related Tech News
Now China has embroiled Qualcomm in anti-trust, the handset business…more »

China's Lenovo is the world's No.1 PC maker in terms of units shipped. On the…more »

Intel's Ultrabooks will account for less than 5% of global notebook shipments in Q4, says…more »

Dialog Semiconductor is supplying its DA8620 passive matrix OLED driver to Lenovo for the s800…more »
Share your knowledge - Leave a comment