ON Semi expands chip design work in Ireland
ON Semiconductor has expanded its Limerick Design Centre which has moved to a new facility at Limerick's Raheen Business Park.
The semiconductor company acquired the Limerick operations in 2008 when it purchased  the CPU voltage and PC thermal monitoring business from Analog Devices.
ON Semiconductor formally established its Limerick Design Center in January 2008 with the support of IDA Ireland. The team based in Ireland has steadily grown from an initial complement of 26 people to a team of almost 50.
"The new design center facility is a valuable expansion of ON Semiconductor's research and development (R&D) activities in Europe," said John Blake, director of ON Semiconductor's Limerick Design Center.
"The engineering staff here now has ready access to a greater array of sophisticated technical resources than were available at our previous 900 square meter location," said Blake.
The Limerick design center team  carries out IC design, test and applications marketing.
Officiating at the event, Minister for Finance Michael Noonan TD said: "I am delighted to officiate the grand opening of ON Semiconductor's state of the art Research and Development facilities here in Raheen Business Park. These new larger premises illustrate how ON Semiconductor's operations in Limerick have been growing and also illustrate the company's commitment to Limerick."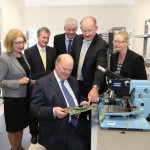 Pictured (left to right standing): Jan O'Sullivan TD, Minister for Housing & Planning, Kieran O'Donnell TD, John Blake, ON Semiconductor Limerick Design Centre Director, Bob Klosterboer, ON Semiconductor Senior Vice President, Breda O'Toole, IDA Ireland Regional Manager. Sitting: Michael Noonan TD, Minister for Finance.