One less candidate for TSMC CEO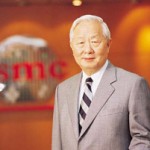 The short-list to succeed the great Morris Chang as CEO of TSMC just got shorter.
Chang has said he will retire (again) on October 31 2014 at the age of 83.
In preparation, Chang appointed three co-COOs. Chang's idea was that the three co-COOs would each do six month shifts running R&D, business development and operations.
Now one of the three COOs, Chiang Shang-yi, the EVP in charge of R&D, has resigned.
That leaves Liu De-Yin and Wei Che-Chia as co-COOs and potential CEO.
In the meantime, Chang will take over running R&D.