PC prospects worsen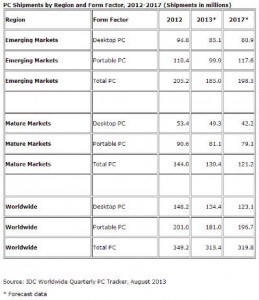 For the PC industry, prospects get worse and worse. IDC cut its 2013 market figure to minus 9.7%.
IDC has also slightly reduced its forecast for the tablet market as people turn to big-screen smartphones or phablets.
Even so, tablets are still expected to grow 58% this year.
For PCs, IDC has been reducing its its expectations as the year has gone on. In March it was forecasting a 1.3% drop; in May it was forecasting a 7.8% drop; now its forecast is 9.7%.
At this rate it's going to look pretty horrible for Intel, Microsoft, HP, Nvidia, Dell, AMD et al by Christmas-time.