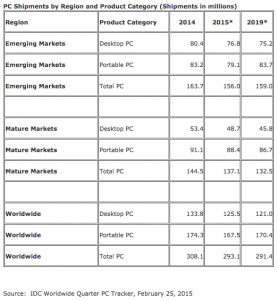 For the full year, IDC estimates that shipments fell 10.4% to 276.2 million.
"The PC market continued to face persistent challenges from longer-PC lifecycles and competition from mobile phones and tablets, despite the slowing growth in those markets, says IDC, "however, economic issues like falling commodity prices and weak international currencies, as as social disruptions in EMEA and Asia/Pacific that disrupted foreign markets were a larger factor for 2015."
IDC VP Loren Loverde still thinks PC replacement rates will pick up in 2016. "Commercial adoption of Windows 10 is expected to accelerate, and consumer buying should also stabilise by the second half of the year. Most PC users have delayed an upgrade, but can only maintain this for so long before facing security and performance issues."
Counting detachable tablets, IDC expects 1%-2% 2016 growth. Gartner forecasts a 1% decline.
Lenovo remained No.1 in PCs with a market share of 21.4%; HP was No.2 with 19.9%; Dell No. 3 with 14.1%; and Apple and Asus both on 7.9%.
All the rest shared 28.7%.