QuickLogic's KitKat Sensor Hub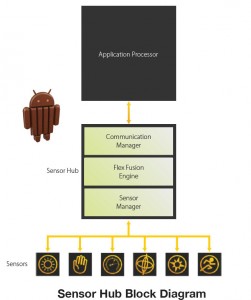 QuickLogic has brought out one of its  CSSPs (Customer Specific Standard Products) which is an Always-on Context Aware Sensor Hub which gives OEMs an out-of-the-box solution for the Android 4.4 (KitKat) operating system.  
This CSSP features Sensor Platform Inc.'s FreeMotion library – a sensor fusion and context awareness solution optimised for smartphones, tablets, and wearable devices.
KitKat mandates that certain sensor algorithms and tasks be offloaded from the application processor to enable new sensor-driven use cases without compromising battery life.
QuickLogic's low power sensor hub solution supports all of the mandated KitKat features on the device, including step count and detection, significant motion detection, game and geomagnetic rotation vectors, and batched events.
Most importantly, the processing architecture of the QuickLogic solution enables these features at power consumption less than 1% of a typical smartphone battery.
The KitKat-compliant solution supports all commonly-used sensors in mobile devices such as Accelerometer, Gyroscope, Magnetometer, Pressure, Ambient Light and Proximity.
"Google's Android KitKat release provides the first clear sensor sub-system definitions for OEMs, and is paving the way towards significant growth in the sensor and sensor hub ecosystem," says QuickLogic's Paul Karazuba.

Tags:
QuickLogic
Related Tech News
Share your knowledge - Leave a comment