Responsibility for sacked Micron workers falls on ST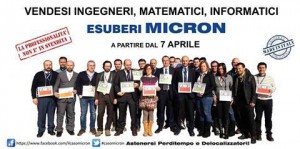 The Italian government is calling in STMicroelectronics to take responsibility for the 419 researchers which Micron Technology of Idaho is trying to sack in Italy.  Micron wants to sack  40% of its Italian workforce. as part of a 5% global workforce reduction.
A meeting will be held in Rome on April 1st at the Italian Ministry of Labour at which ST may be forced to accept responsibility for the situation which started back in 2007 when ST decided to exit the flash memory business by putting its memory operation into the Numonyx joint venture with Intel.
Last Wednesday Pietro Pallela, managing director of STMicroelectronics Italy, was called into the Italian Ministry of Economic Development (MISE) to meet Vice-Minister Claudio de Vincenti  who asked Pallela for ST's plans for the 419 researchers which Micron intends to sack.
The researchers had originally worked for ST's flash memory business but had been forced into  Numonyx  which was later sold to Micron. Micron is now trying to sack 40% of the former ST memory unit.
Last Wednesday, at the meeting with de Vincenti, Pallela told the Vice-Minister  that ST had no moral obligation or responsibility for the employees and wouldn't be able to re-hire any of the sacked researchers until 2016.
The Italian government still has a stake in ST and a 'golden share' which is thought to allow it to enforce its will on the ST management.
Leaders of the Italian unions have written to the new Italian Prime Minister Matteo Renzi asking him to intervene in the dispute and lean on ST to find a solution to the problem.
Meanwhile the Micron workers have plastered Catania with posters high-lighting their plight.
At a meeting at MISE last Thursday, Micron reduced the number it would sack by 20-30 people but made no significant concessions.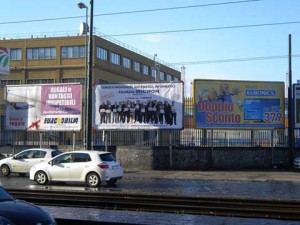 The Mayor of Catania and Sicilian regional officials also held a meeting last week to discuss the issue.
Meanwhile the Micron workers have plastered Catania with posters high-lighting their plight.
The slogans read:
'On Sale! Engineers, mathematician, information technologists'
Micron  Redundancy Personnel from April 7th
Professionalism is not for Sale!

Tags:
Italian government
Related Tech News
The STMicroelectronics Works Council (EWC) has called on ST to find employment for the 419…more »

Does Europe have a future in microelectronics or not? As…more »

The Italian government is to sell a 13% stake in…more »
3 Comments
Share your knowledge - Leave a comment