Samsung expected to have $220bn sales revenues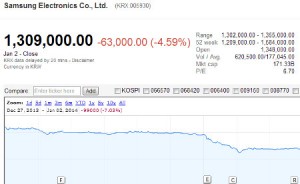 Samsung Electronics is expected to announce operating income of $37 billion on sales of $220 billion next week, reports Bloomberg.
Samsung Chairman Lee Kun Hee has, reportedly, told Samsung employees that they must seek to change the business and 'give a bigger push to innovations'.
Lee told staff that they must think beyond the hardware.
Stock markets punished Samsung, forcing down the share price as investors assume Samsung is going to make cheaper handsets for emerging markets and so attract lower margins.
Image: Google Finance - Samsung Electronics

Related posts