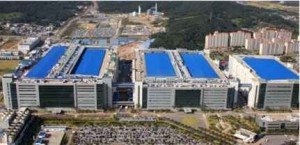 Fab workers blame Samsung for illnesses including leukaemia. they have been in dispute with Samsung about the issue for many years.
The Family Committee and the Supporters for the Health And Rights of People in the Semiconductor industry (SHARPS) have formed a committee to inspect Samsung's facilities and suggest improvements.
Samsung has promised to "faithfully" implement the committee's recommendations.
Samsung described the deal as a "final settlement." The company announced in July last year a 100 billion won (US$83 million) fund, which would be used to support sick workers and their families.
More than 150 people have applied for support under the programme of which 100 have accepted the financial aid, Samsung said on Tuesday.
"Along with the financial aid, every recipient has received a heartfelt message of sympathy from Samsung's CEO,"  said Samsung.
The role of Samsung's semiconductor factories in the illness of some workers came under a cloud after the death from leukemia in 2007 of a former employee.
Samsung has acknowledged that during or after their period of employment at its fabs some employees had developed diseases however, Samsung claims, that no causal link had been established between the working conditions and the illness of the workers.
"While we respect the rulings of the Seoul Administrative Court, it is important to note that the Court acknowledged that there is no scientifically proven correlation between workplace environment and employee illness," said Samsung .
SHARPS is said to plan to continue protests outside Samsung's headquarters in Seoul until the company concedes that its fabs caused the illnesses.