Second Sharp Monthly Sales Drop For TSMC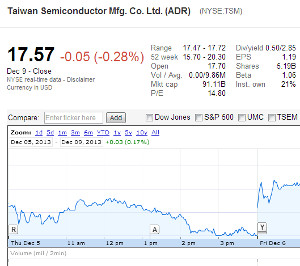 TSMC had a second month of sharply falling sales revenue with a 14.4% drop for November revenues to $1.49 billion from October's $1.76 billion.
TSMC's October revenues were down 6.5% on its September revenues of $1.88 billion.
TSMC had revenues of $1.86 billion in August up 5.7% on July's $1.74 billion, but down from the $1.77 billion of June. May sales were $1.73 billion – a slight rise on April's $1.7 billion.
The November 2013 revenue figure was flat compared to November 2012.
TSMC's YTD revenues are $18.52 billion up 16.6% on revenues for Jan-Nov last year.
UMC also had November revenues which were broadly flat with both last November's $350 million and with its October revenues of $355 million.
UMC had September revenues of $340 million, August revenues of $371 million, July revenues of $386 million, June revenues of $368 million, May revenues of $361 million and April revenues of $336 million.
UMC's YTD revenue is $3.86 billion compared to $3.62 billion last year.

Related posts