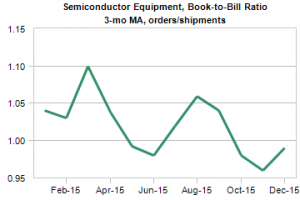 February bookings were $1.26 billion, 3.7% lower than January's $1.31 billion and 3.9% lower than the February 2015 bookings level of $1.31 billion.
February billings wereb $1.20 billion, 1.3% lower than January'sv $1.22 billion, and 5.9% lower than the February 2015 billings level of $1.28 billion.
"The book-to-bill ratio has remained at or above parity for three months in a row," says SEMI CEO Denny McGuirk. "The data indicate an improved spending trend in the second half of the year, driven by 3D NAND and 10nm investments."
Past six months book-to-bill
September 2015 – 1.04
October 2015 – 0.98
November 2015 – 0.96
December 2015 – 1.00
January 2016 – 1.07
February 2016 – 1.05
See also: SEMI records declining book-to-bill ratio for January
SEMI is a global industry association serving the electronics manufacturing supply chains, with 1,900 member companies. The data contained in the report was compiled by David Powell, an independent financial services firm, without audit, from data submitted directly by the participants, states SEMI.
The report tracks billings and bookings worldwide of North American-headquartered manufacturers of equipment used to manufacture semiconductor devices, not billings and bookings of the chips themselves, it also notes.