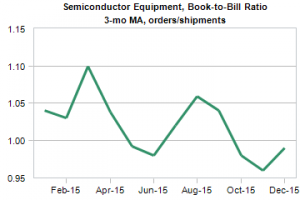 January bookings were $1.32 billion – 1.4% lower than December's 2015 $1.34 billion, and is 0.1% lower than the January 2015 order level of $1.33 billion.
January billings were $1.23 billion – 8.8% lower than December's $1.35 billion, and is 3.7% lower than the January 2015 billings level of $1.28 billion.
"Recent semiconductor order activity is on par with the figures reported one year ago," says SEMI CEO Denny McGuirk, "while uncertainty clouds the near-term economic outlook, we currently expect 2016 capex to remain in range of 2015 spending."
The last six months book-to-bill ratio has been: August 1.06, September 1.04, October 0.98, November 0.96,
December 1.00, and January 1.08.
The SEMI book-to-bill is a ratio of three-month moving averages of worldwide bookings and billings for North American-based semiconductor equipment manufacturers.
The data contained in this report was compiled by David Powell, an independent financial services firm, without audit, from data submitted directly by the participants.
Billings

(3-mo. avg)

Bookings

(3-mo. avg)

Book-to-Bill

August 2015

$1,575.9

$1,670.1

1.06

September 2015

$1,495.0

$1,554.9

1.04

October 2015

$1,358.6

$1,325.6

0.98

November 2015

$1,288.3

$1,236.6

0.96

December 2015 (final)

$1,349.9

$1,343.5

1.00

January 2016 (prelim)

$1,231.4

$1,324.1

1.08
See also: Shipments up, revenues down for wafer suppliers
Read more SEMI stories on Electronics Weekly »