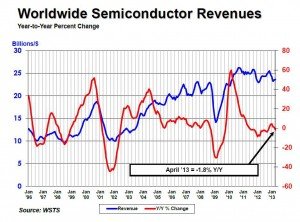 "Softening demand and lingering macroeconomic challenges continued to limit global semiconductor sales in November," says SIA CEO John Neuffer, "despite these headwinds, the industry may narrowly surpass total annual sales from 2014 and is projected to post modest sales increases in 2016 and beyond."
Regionally, month-to-month sales increased in China (1%), Europe (1%), and the Americas (0.3%), but decreased in Japan (-0.6%), and Asia Pacific/All Other (-2.4%).
Compared to November 2014, sales were up in China (5.3%), but down in Asia Pacific/All Other (-4.1%), the Americas (-7.1%), Europe (-8.0%), and Japan (-8.6%).
All monthly sales numbers were compiled for SIA by the World Semiconductor Trade Statistics (WSTS) organisation and represent a three-month moving average. Founded in 1986, it is described as an independent non-profit organisation "representing the vast majority of the world semiconductor industry". It is a source for monthly industry shipment statistics.
Fuller figures are shown below.
See also: Semiconductor sales see record Q2, says SIA
See also: May semi sales up 5% – SIA