Sharp looking sharp again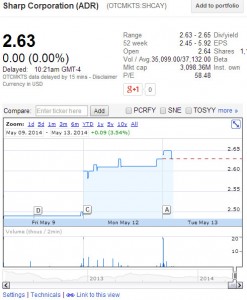 For the first time in three years, Sharp has made a profit. Not a big one – only $114 million – but it expects to see a $300 million  profit in the current financial year to the end of March 2015.
The turnaround does credit to CEO Kozo Takahashi.
Sharp lost $9 billion in the previous two years running up debts of $12.7 billion. The first sign of recovery was a profitable calendar Q3 last year.
To raise money, Sharp sold assets: it sold Recurrent Energy for around $190 million; it sold 3% of the company  to Samsung for $100 million and 3.5% of the company to Qualcomm for $120 million; it sold three more $100 million stakes to Makita, Denso and Lixil Group.
Sharp also had a public equity offering to raise $1.7 billion.
Sales of Sharp's low-power IGZO displays are expected to double this year said Takahashi due to demand from China hand-set makers.

Tags:
CEO Kozo Takahashi.
,
Recurrent Energy
Related Tech News
Share your knowledge - Leave a comment