With the addition of the asynchronous state machine, designers can implement up to eight unique states with zero code, zero static power, and fail-safe operation.
The addition of I²C enables designers to change device configuration, such as analogue comparator thre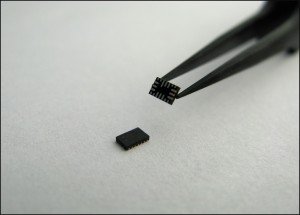 sholds, on the fly. The I²C block can also act as a digital IO expander.
Included in the SLG46531V are improved counter/delay blocks, featuring one-shot and frequency detect modes, as well as the capability to drive an external crystal oscillator.
These new functionalities, along with the configurable digital and analogue blocks seen in previous generations of GPAK, says Silego, are all packed into a  2.0×3.0mm 20-pin STQFN with 18-GPIO.
Like other devices in the GPAK family, development of SLG46531V projects takes advantage of the GPAK development hardware and GUI interface of GPAK Designer, where designers now have the ability to perform on-board emulation, within their design, using I²C.